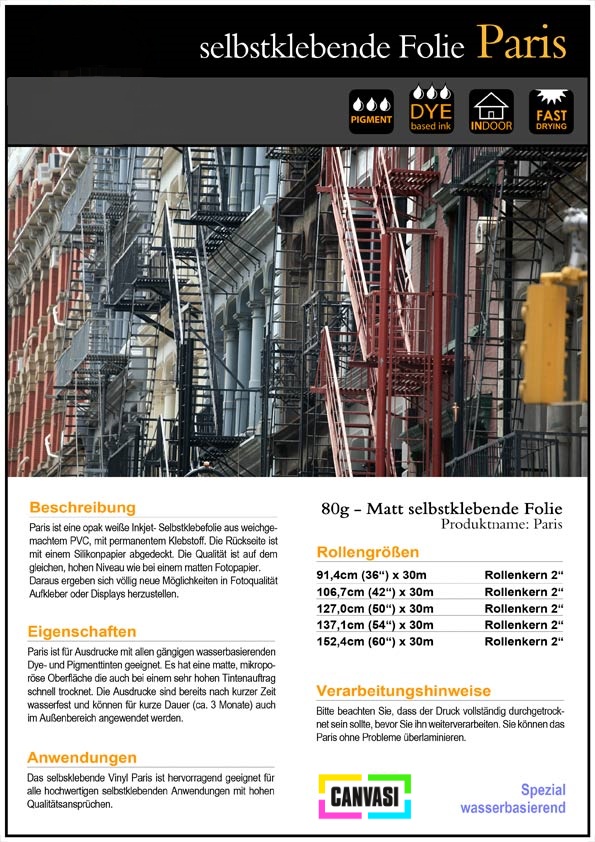 Paris - Selbstklebende Folie matt 80 g - 0,91 x 30 m
Product number:
PARIS-091030
Product information "Paris - Selbstklebende Folie matt 80 g - 0,91 x 30 m "
Description
Paris is an opaque white inkjet self-adhesive film made from plasticised PVC with permanent glue. The back is covered with silicone paper. The quality is of the same high level as that of matt photo paper. This enables a whole new range of possibilities in creating photo quality labels or displays.
Properties
Paris is suitable for prints using all common water-based dyes and pigments. It has a matt, microporous surface that dries quickly even with high volumes of ink. In a very short time the prints become waterproof and can be used outdoors for a limited period (approx. 3 months).
Applications
The self-adhesive Vinyl Paris is ideal for all high-quality self-adhesive applications that require high standards.

Processing Instructions
Please note that the print must be fully dry before processing. The paris can be easily laminated.

Name: Paris WF
Weight: approx. 80g/m²
Price: net €4.62/m² - gross €5.89/m²
Roll Length: 30m
Roll Core Diameter: 2"
Roll Width in cm: 91.4 - 106.7 - 127.0 - 137.1 - 152.4
Finish: Matt
Composition: 100% PVC
Affordable Paris WF Adhesive for Pigments and Dyes direct from Wholesaler