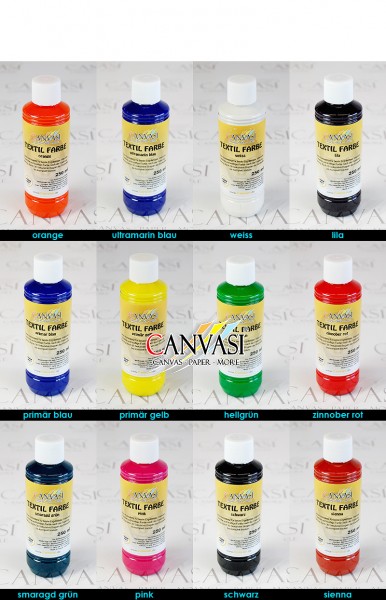 €5.59
Content:
250
(€2.24 / 100 ml)
Product information "Textile paint - 250ml"
In the usual Canvasi quality, with the "Textile Color" (250ml).
It is characterized by a high depth of color and good color fastness, it is suitable for washing machines
Suitable for many types of fabrics such as cotton, linen, polyamides, blends, etc. (with the only exception of silk).
Please wash the fabrics before application in order to achieve the maximum color intensity.
Application:
Apply the paint to the fabric with a soft paintbrush or soft brush.
Immediately after drying, the back must be ironed to permanently fix the color.
We recommend the highest level of your iron, depending on how many degrees the type of fabric used can handle. Iron longer than a normal ironing process and without using the steam from your ironing iron.
Available in 12 colors
White
sienna
orange
ultramarine blue
purple
primarily blue
primarily yellow
light green
vermilion red
emerald green
pink
black
The content per bottle is 250ml.