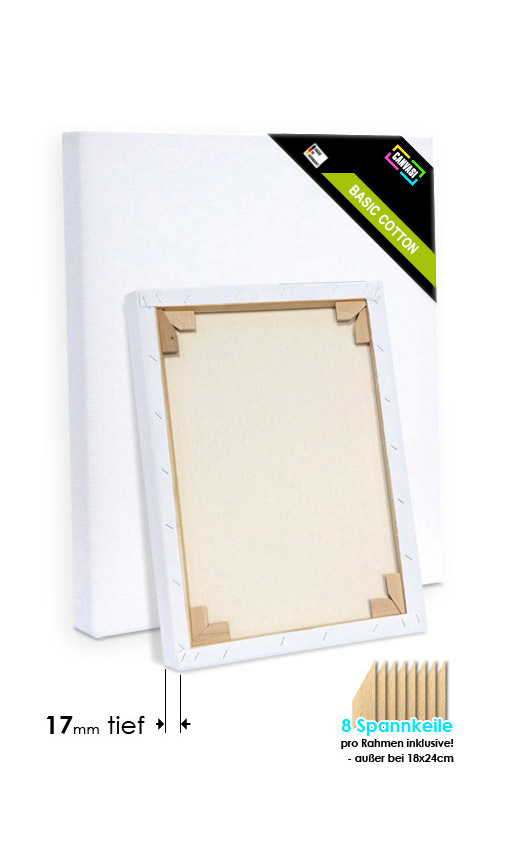 BASIC COTTON - Student Stretched Canvas Frame
Product number:
BK-BC-STU-018024
Lieferzeit ca. 10-14 Tage
Product information "BASIC COTTON - Student Stretched Canvas Frame"
Minimum order of 3 for small formats
Our stretched canvas "BASIC COTTON"
"Made in Germany"
This incredibly low-price and yet high-quality stretched canvas frame offers the perfect introduction into our range of stretched canvas frames.
The stretcher bars are 17x27mm thick, made in Germany using multiple finger-jointed spruce with a residual moisture level of maximum 12%. The canvas is a double-primed mixed fabric - 75% cotton and 25 % Polyester.
Our Basic Cotton stretched canvas frame is only available in 30 fixed sizes and is therefore always in stock and ready to be shipped.
- stapled back
- canvas weight approx. 300g /m2
- 1,7 cm deep
- carefully packaged
- outstanding quality
- made in Germany
- 8 wedges per frame included (except with frame size 18x24cm)
Suitable for all kinds of paints such as oil, acrylic, tempera, mixed paints etc.
Delivery is approximately one to two days.
The asterisks beside the size measurements indicate how many crosspieces are used for each corresponding size.
* One short crosspiece
** Two short crosspieces