Stretcher frame in black: make the colors glow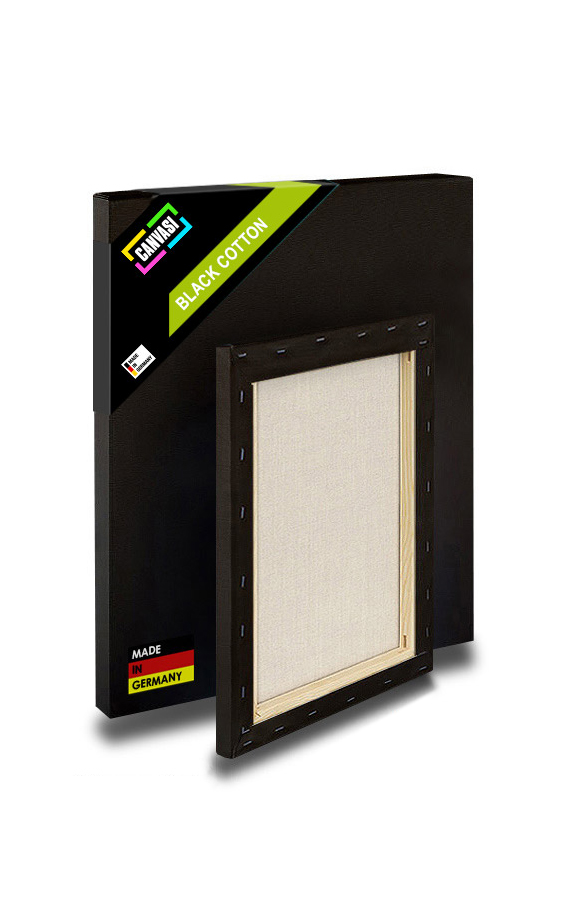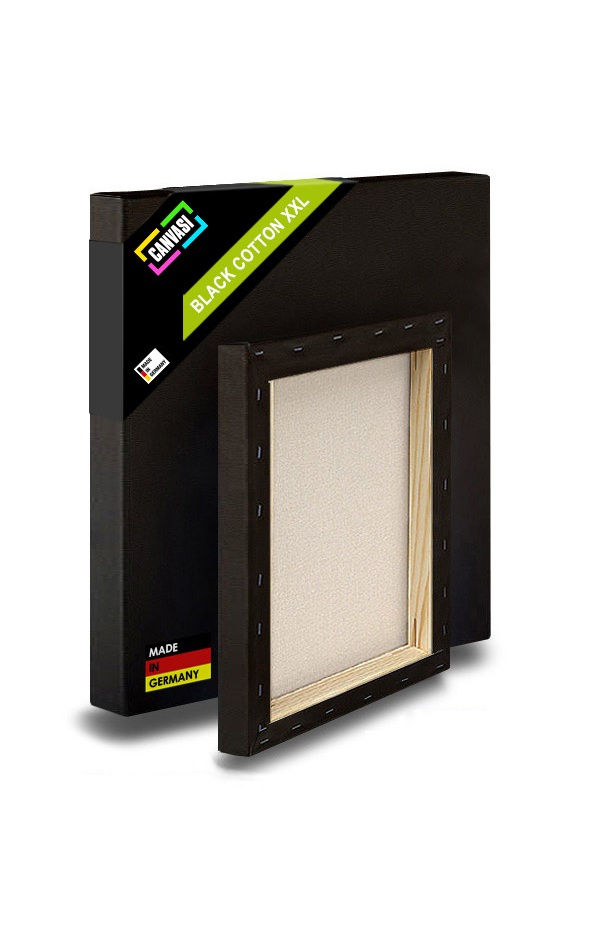 Choose between black stretcher frames in thousands of formats.
The covered stretcher frames with black primed canvas are available in different thicknesses, sizes and formats, so you can choose the right variant for every project:
with a frame depth of two or four centimeters
in different sizes from 15 by 15 centimeters up to 200 by 300 centimeters
square or rectangular
From a side length of 100 centimeters, our covered stretcher frames are additionally reinforced with cross braces for stabilization. Thanks to the wide range of formats, the stretcher frames in black are suitable for a wide variety of subjects, from miniature floral still lifes to epochal historical paintings. The frames are covered with a mixture of cotton and polyester, which proves to be very robust. Whether you are an ambitious artist or a beginner in painting - the stretcher frames meet the highest demands. They represent the perfect painting base to turn your creative ideas into reality.
Quality products from German production

For the production of our covered stretcher frames in black, we use frames made of sturdy spruce wood, which is light but robust. On it, the black primed canvas is carefully stretched by hand and stapled on the back.
Start painting with the primer
If you choose a ready-covered and primed stretcher, then you can immediately grab a brush and paint and get started. Cutting the canvas to size and assembling and stretching the stretcher frame are no longer necessary, which gives you much more time for your creative project. In addition, the stretcher frames are already primed in black, which also relieves you of tedious work. The universal primer is matched to acrylic as well as oil, tempera and mixed colors.
Black primer for brilliant colors
For many picture motifs, a dark primer is not only recommended, but also a prerequisite, for example, when depicting night scenes. The dark base gives the painting more depth and structure. You can also achieve an enhanced color effect with black priming, because bright colors appear all the brighter in contrast. So for many painting themes, a dark primer makes a lot of sense. With our stretcher frames with black canvas, we take one step off your hands: you no longer have to prime the canvas yourself, but can start painting right away.
Canvasi: Your specialized dealer for artist supplies
You prefer to prime your stretcher frame dark yourself? In our offer you will not only find stretchers covered with black canvas, but also white primed painting canvas, canvas especially for oil paints and many other alternatives. All stretcher frames in our range are available in a variety of different formats. If the right one is not there, you can easily assemble your own stretched canvas in the desired size with the help of stretcher bars and paintable canvas. We also offer products for professional printers, from printable canvas to metal plates. With our selection of shadow gap frames you set your work appealingly in scene. Do you have questions about our products? We are here for you and will be happy to advise you on your purchase by phone.