Stretcher frame: covered with cotton
Much has changed in fine art since the first cotton covered stretcher frames of the 16th century. But still light woods combined with natural canvas fabrics are the ideal basis for a painting created by hand. In Canvasi's assortment you can find, among other things, high-quality stretcher frames with canvases made of cotton and polyester, suitable for the most common painting techniques. Discover our medium cotton products now! For all common applications - covered with Cotton FL Canvas.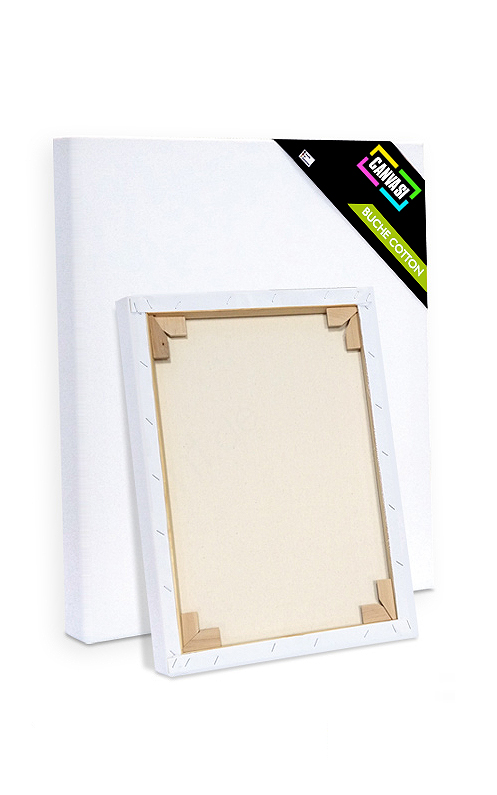 Stretcher frame with cotton canvas handmade in Germany.
Our medium cotton stretcher frames are made of a blended fabric of 75 percent cotton and 25 percent polyester, called Cotton FL Canvas. The mix of these materials has the advantage that the stretcher frames are easier to stretch and re-stretch than pure cotton canvas.
The frame on these Canvasi models is made of professionally dried spruce with a low residual moisture content. Manufactured with a choice of 18 or 40 millimeters in depth, the stretcher frames made from this wood are both lightweight and sturdy. Thus, they can also withstand the canvas weight of 310 g/m² including the covering well. This is stapled to the back of the stretcher frame by hand - made in Germany.
To ensure that the covered stretcher frame meets all the requirements of professional artists and printers, our entire manufacturing process is TÜV-tested in accordance with ISO 9001.
Versatile: stretched canvas with cotton
In the Canvasi assortment you will find various stretcher frame sizes with cotton covering. Our 30 fixed dimensions range from 15 x 15 cm to 200 x 300 cm. Depending on the format, the frames are equipped with one or more cross braces to ensure optimal stability.
Use our ready stretched canvases made of cotton blended fabric for various painting techniques such as oil, acrylic, tempera or mixed colors. As a basis for each technique serves a corresponding primer, which you can also get in our online store. In addition, you will find various painting utensils at Canvasi to breathe life into your creative ideas with the right tools.
We will be happy to assist you in choosing your stretched canvas with cotton and the appropriate accessories for your projects. Call or email us at info@canvasi.de.