Priming with gesso
First prime, then paint - this credo was already valid in antiquity. And even today, artists are still convinced by professional priming. Although the composition of gesso has changed considerably over the centuries, the aim has remained the same: To create the basis for a perfect application of paint. Discover the primer from Canvasi now!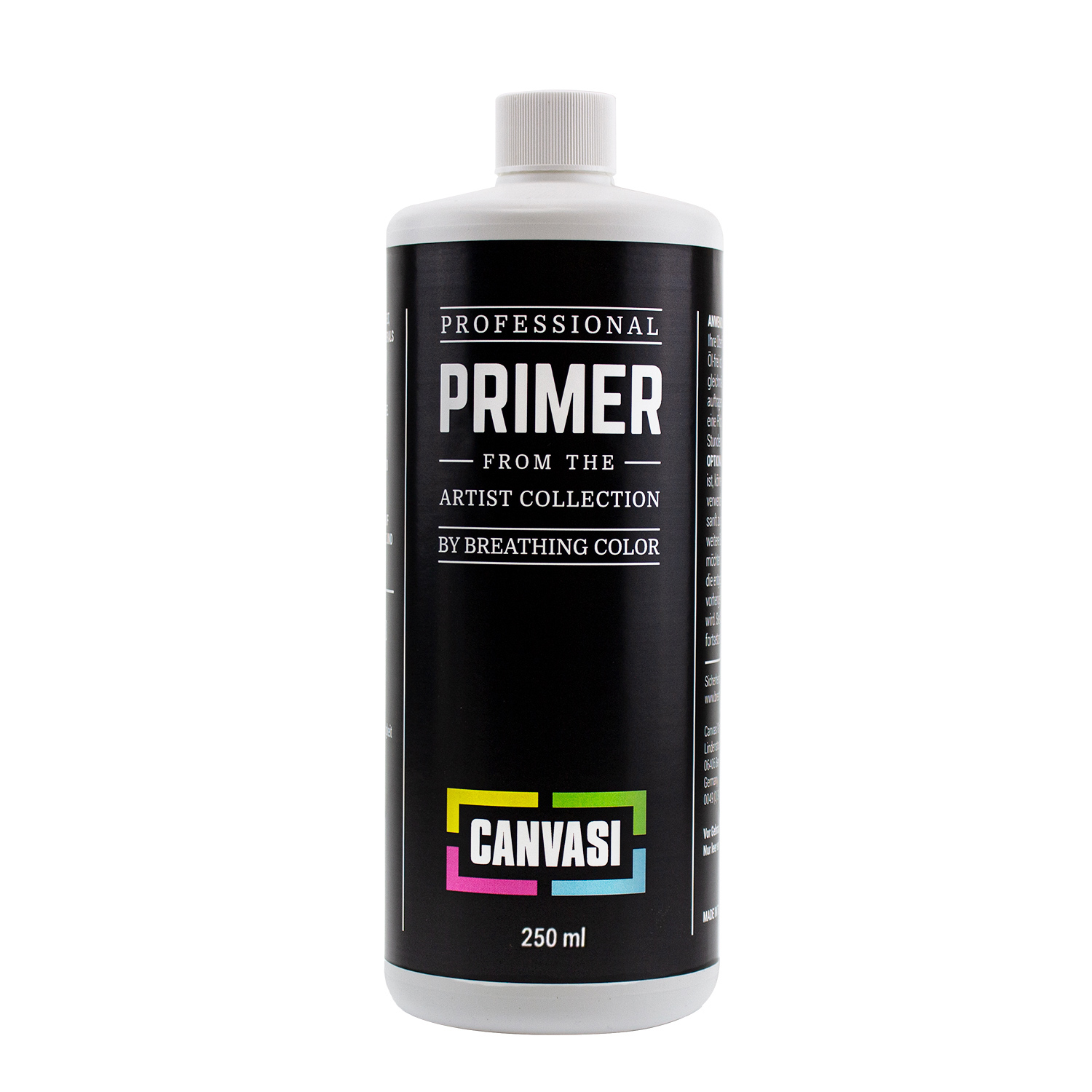 What are the advantages of a primer?
With Canvasi Professional Gesso you get a liquid primer for acrylic, oil, pastel, watercolour pencils and charcoal - perfectly mixed and straight from the bottle. The modern acrylic gesso consists of
Titanium white,
calcium carbonate,
acrylic polymer
and pigment.
With this combination, surfaces such as canvases, paper, metal, glass and wood can be optimally prepared for the application of paint. The non-toxic primer is very productive and flexible and water-repellent when dry. It also prevents the painting from yellowing.
Further advantages of Gesso as a primer:
supports colour intensity and colour depth
protects the canvas from deterioration in the long term
suitable for smoothing as well as for relief-like surface structures
In contrast, non-primed canvases absorb the paint film directly - with a blotchy result that does not meet artistic standards. In addition, direct application of paint can attack the fibres of the canvas and cause long-term damage.
Priming made easy!
1. prepare the surface
First clean the canvas with a damp cloth - either with water or alcohol. The surface must be absolutely clean and free of dust and oil before priming. Allow it to dry thoroughly afterwards.
2. apply the primer
Pour the required amount of gesso into a shallow bowl or other container. Then apply a thin and even coat to the canvas with a wide brush. Make sure to work either horizontally or vertically. 3.
3. allow to dry
Canvasi Professional Gesso takes between 20 minutes and an hour to dry per coat. Allow about 24 hours drying time after the last coat before starting to apply the paint.
4. Sand the surface and prime again (optional).
If you prefer a particularly smooth result, you can sand the edges and lines with fine sandpaper after drying. Simply brush off any excess dust.
If one coat of primer is not enough, you can repeat the application as often as you like. Apply the primer in the opposite direction with each new coat. And allow enough time for drying between coats.
FAQ
Do I have to prime my canvas?
For optimal results in oil and acrylic painting, we always recommend priming. It makes the surface less absorbent and prevents spotty paint application. In addition, priming with gesso gives the canvas a texture so that acrylic paint, for example, adheres better to it.
Can I prime a pre-primed canvas with gesso?
Yes, at Canvasi all stretched canvases are pre-primed with gesso. If this primer does not yet meet your requirements, you are welcome to apply further layers. This will give you the optimal base for your already imagined painting.
How long does Canvasi Professional Gesso take to dry?
At room temperature and low humidity, an average of 20 minutes is sufficient for a layer of gesso to dry completely. If it is colder or the humidity is higher, it can take up to an hour. After the last coat we recommend a drying time of 24 hours.
Do you have any questions about our primer or would you like to know more about the Canvasi range? You can reach us by phone at +49 (0) 3471 6275403 or by e-mail at info@canvasi.de.