Canvas Panels Pack - Painting Surfaces
Stable and versatile painting surfaces are an important basis for artists to express their creativity. The Canvas Panels in Canvasi's range combine the traditional way of painting on wooden bases with the modern canvas covering. Discover now the different sizes for your artistic work.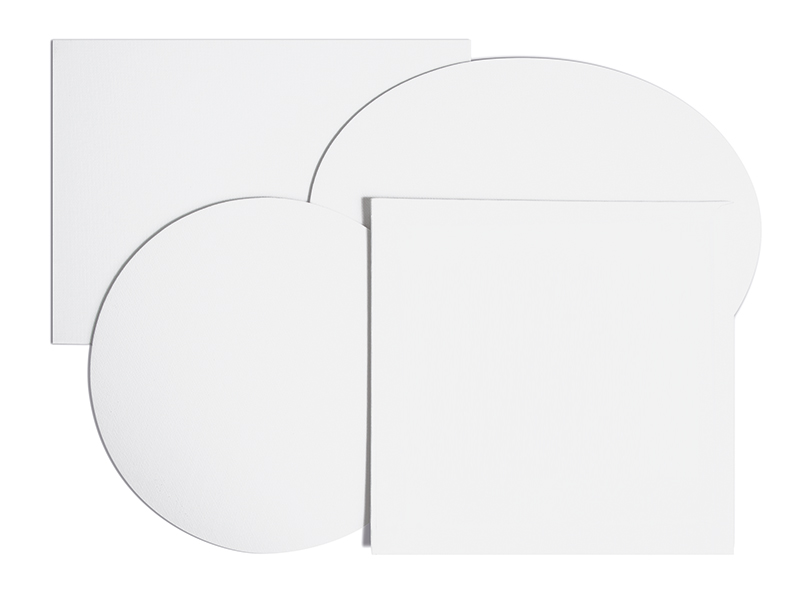 Canvas Panels: Alternative to stretched canvas frames
A characteristic feature of canvas panels is the support material on which the blank canvas is stretched. Unlike stretched canvas frames, Canvasi uses 2.3 mm thick MDF boards for this purpose. Cardboard or paperboard are out of the question for our high-quality product. The canvas itself is made of 100% cotton with a grammage of 250 g/m². On the back, the complete plate is laminated with white paper to achieve a very high stability and planage. The painting surface is acid-free and is primed three times with gesso at Canvasi. The result is impressive: A 3.0 mm thick canvas panel - immediately ready for your creative work.
The advantages:
✓ Canvas Panels keep their shape even with climate fluctuations.
✓ They are slim, easy to store and easily transportable.
✓ The surface remains stable after painting, so layers of paint are less likely to crack.
✓ Repairs to the support material and canvas are easier.
Painting techniques and presentation
Canvas panels can be used for a wide variety of painting techniques. Classic oil-based paints can be used as well as acrylic paints or gouache. Whether brush or painting knife, the covered panels provide the optimal painting surface. Even modeling clay finds sufficient hold on a canvas panel, which remains perfectly in shape even under high loads.
Once your work is complete, the question of optimal framing arises. Similar to covered canvases, canvas panels can also be presented in floater frames. Special frames with integrated wooden strips are suitable for this purpose to compensate for the difference in height. Alternatively, you can use a conventional shadow gap frame: To do this, glue the strips to the back of the panel and then screw them to the frame.
Wide range of canvas panels and accessories - at Canvasi
In our online store, you can get canvas panels in different sizes between 20 x 20 cm and 30 x 40 cm. Depending on the product size we deliver sets with 12 or 6 pieces. In addition, Canvasi offers a wide range of accessories such as frames and canvas hangers. We will be happy to advise you on the selection of suitable gallery and artist supplies.