Stretcher frame with linen: a natural painting ground.
Whether pastoral landscape or cubist form study - the blank canvas leaves room for any creative idea. In addition to the popular cotton canvas, we also offer stretched canvas with linen. The delicate natural tones of the linen fabric remain visible thanks to a transparent primer and can thus be incorporated into the painting. Choose here between hundreds of formats and learn more about the production of our stretcher frames with linen.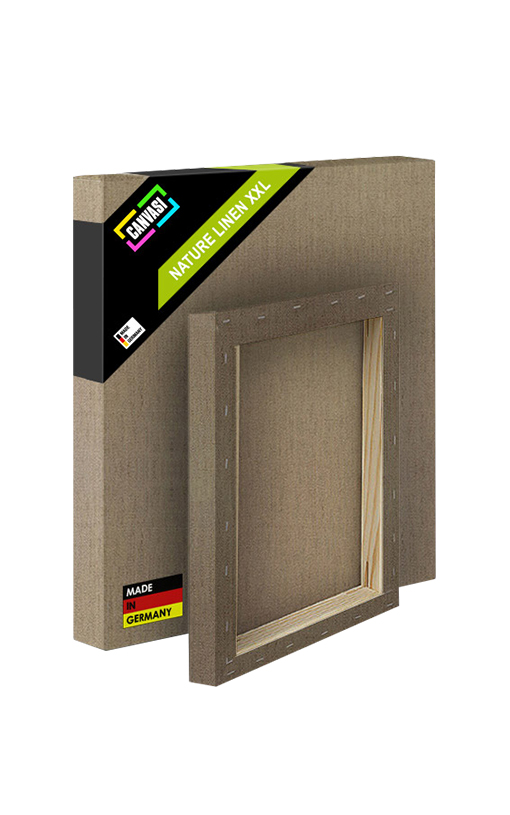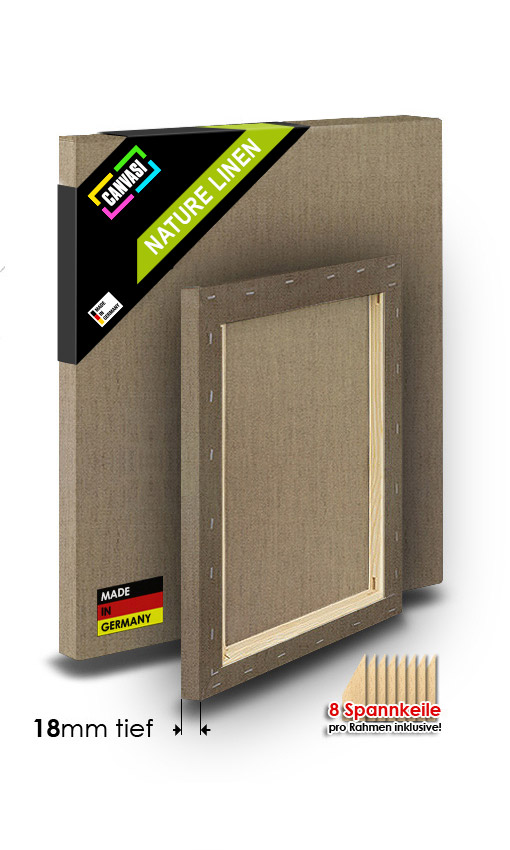 Stretched canvas stretchers in hundreds of formats.
Stretcher frames covered with linen provide a natural painting surface on which you can bring your creative ideas to life. For this, you can choose from hundreds of different formats in our assortment:
two depths: standard (1.8 centimeters deep) and XXL (four centimeters deep)dimensions from 15 by
15 centimeters to 200 by 300 centimeters
We would like to offer you the optimal painting surface for each of your artworks. That is why you will find in our assortment the covered stretcher frames with linen in countless formats, from small to large.
Tip: You need a covered stretcher frame in unusual dimensions? With our stretcher bars and paintable canvas, you can easily make it yourself!
Transparent primer for all colors
Linen is not only used for canvas because of its robust qualities, but artists also appreciate its appearance. That's why we use a transparent primer for our stretcher frames with linen, through which the fabric remains visible. After all, many painters prefer to incorporate the natural tone of the linen into their painting. Thanks to the transparent primer, you paint the canvas stretched on the stretcher without the colors losing their radiance. Without a primer, the colors would not adhere, but would penetrate through the canvas. The transparent primer is suitable for all common colors such as oil, acrylic, tempera and gouache or mixed colors.
Did you know? We also carry covered stretcher frames with special canvas made of linen for oil paint.
Why is linen used for stretcher frames?
Linen is made from the fibers of the flax plant and has been used for centuries to make textile fabrics. The linen fabric is very tear-resistant and therefore a traditional and popular fabric for stretching stretcher frames. The natural linen can remain visible as an effect in the picture, for example as the soil in a landscape depiction. The delicate look invites you to play with contrasts. Whether as a background for a floral depiction or for modern compositions of shapes in bright colors - the stretcher frames with linen offer you numerous opportunities to try out your painting skills!
Stretcher frames with linen: Handmade from Germany
The stretcher frames with linen come from our own production. In manual work our employees put the stretcher frames together and fix the primed canvas on it. In order to maintain stability with larger formats, we use cross braces from a certain length of the stretcher bars. We also supply tensioning wedges so that you can re-tension the canvas. Whether stretched canvas, paintable canvas on rolls or stretcher bars - all our products arrive carefully packed at your door!
Canvasi: wholesale artist supplies and print accessories
Our range of high-quality canvas and stretcher bars makes us especially attractive to artists. However, we do not only supply professionals at the easel with the appropriate accessories, but are also happy to supply schools, art colleges and galleries. In addition, photo studios, photo artists and other entrepreneurs in the field of professional printing will find the right material from us, from printable canvas to floater frames for the presentation of the artwork.